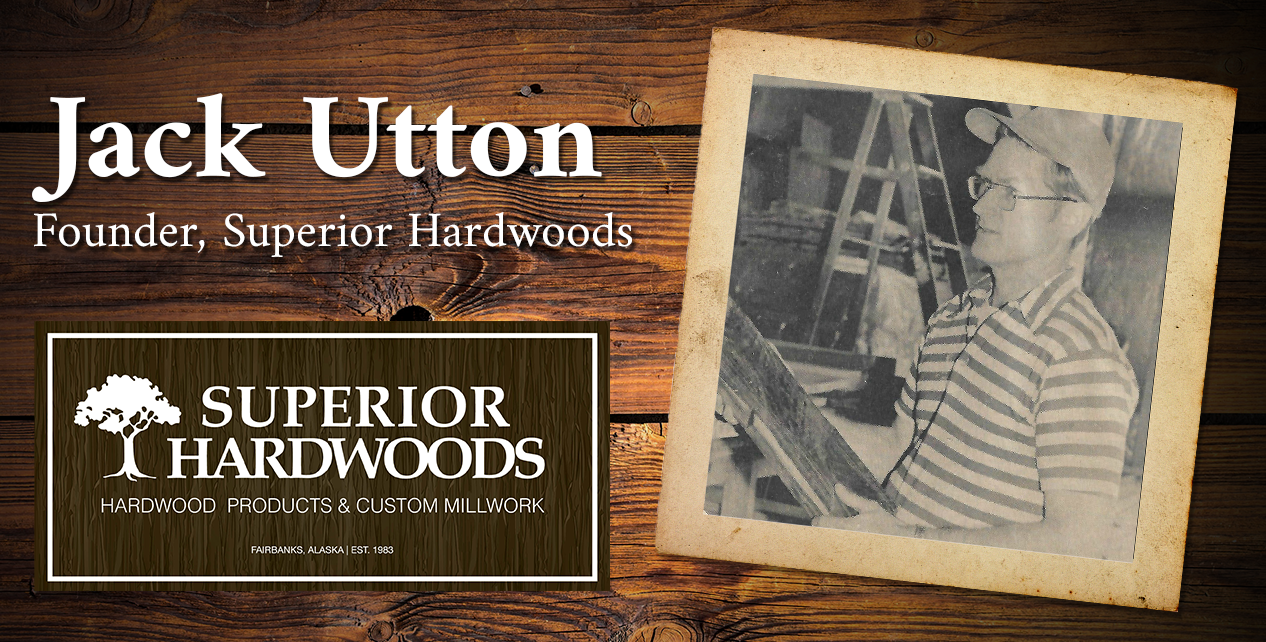 OUR ROOTS
Superior Hardwoods was established in 1983, but local legend says it started even before that by a gentleman named Jack Utton.  In 1981, Mr. Utton decided to resign as director of natural resources for Tanana Chiefs Conference and launched Fairbanks' first business specializing in the sale of fine-quality hardwoods. His
interest in hardwoods comes from his upbringing in Vermont, where each autumn was a spectacular sight. He later received his degree in forestry at the University of Maine and then went on to work as a county forester for ten years in Wisconsin. So trees were always a part of Jack's life.
Initially, Jack tried to store and sell a limited supply of hardwoods from his garage at his home on Gilmore Trail, but he quickly found space to be a critical problem. When he had the opportunity to purchase a small warehouse building just outside of town, he jumped at the chance, even though he could not afford it. Jack sold his house and moved into a small trailer on the property so he could buy the building to store more hardwoods (increasing inventory) and have a woodworking area. He carried typical hardwoods such as white oak, red oak, cherry and hickory, but he also brought in exotic woods such as lignum vitae and ebony. Lignum vitae was used by the Navy and shipbuilders to build underwater bearings which line the propeller shafts of submarines and steamships while hickory and white ash are requested for making dog sled runners and local birch was also part of the starting line-up.
Most of his business was directed to the local community, although he did (and we still do) receive bush orders from as far away as Valdez and Kotzebue. Jack ordered most of his hardwoods by the truckload from Wisconsin, because of his work in the state, his familiarity with Wisconsin's forests and lumber mills, and his confidence in the quality of the woods he received from there. Jack also ordered woods such as Hawaiian Koa and other imports from outlets in San Francisco and Seattle. All of Superior Hardwoods' lumber back then and still today is carefully kiln-dried to the proper degree of moisture content. If hardwoods are not slowly air- dried and then kilned, they tend to shrink and crack later, especially in the low humidity of an Alaskan winter.
When Jack wasn't selling wood to customers, he was busy woodworking. He took on many projects for locals and did everything from creating and restoring wooden staves for a wheat thresher to making an axle for an antique horse-drawn buggy. Each day brought a new request for Jack back then and it still does for Superior Hardwoods today.
There have been a few owners of Superior Hardwoods over its lifetime, but the longest of them were Rick Kreofsky and Connie Page, who added the custom milling and the addition of the showroom to the warehouse.   In 1996 when Rick and Connie bought the business, Rick had over 20 years of experience in the woodworking and building trades. Together through their 17 years as owners, Rick and Connie continued to expand the services and product line, while making custom milling and personalized customer service a cornerstone of the business. Now the shop area contains a large sander, jointer, planer, saws, and moulder.  Superior Hardwoods can produce just about anything from custom trim to table/counter tops to dimensional lumber in any species and almost any size you choose.
Nava Christian is a long-time resident in Fairbanks who married Justin Christian, a born and raised Fairbanksian. They are the current owners who are continuing the tradition of growth and expansion. They have added a CNC machine which can make signs, do custom cuts for anything from table legs to shelf pieces, flatten slabs, and so much more. They both say, "We were given a unique opportunity and with our drive and experience, Superior Hardwoods seemed to be a great match for us.  We are very much enjoying the fact that we are continuing a long time Fairbanks tradition in lumber, woodworking, and customer service. We hope to keep it going and growing for many, many more years to come."
See how far we have come since 1984!